Concert staging is essential for outdoor events to be memorable. A pioneer in outdoor event technology, SINOSWAN has transformed concerts and live performances since 1997. They offer many concert staging options that have simplified, accelerated, and improved outdoor performances' ease and safety. SINOSWAN's revolutionary concert staging solutions will be examined in this article. We will examine their cutting-edge technology's options, capabilities, and benefits.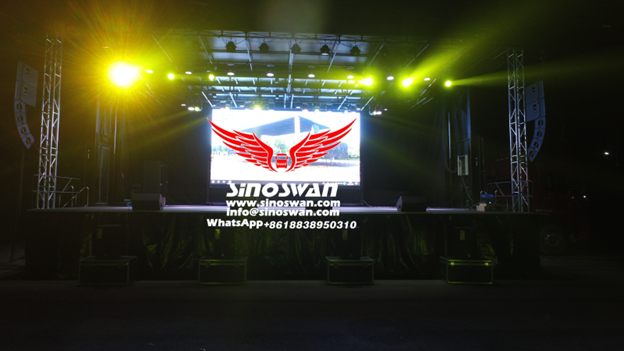 Concert staging: Magic Unveiled
Concerts combine music, lights, and emotions, and the right staging can elevate the experience. SINOSWAN understands the importance of concert staging and has unique solutions for event organizers. We have options for all types of events, from large music festivals to intimate acoustic performances.
SINOSWAN stages concerts in various ways.
SINOSWAN offers modular movable stages. These portable stages are ideal for touring bands and event planners. The modular design lets you adjust stage size to suit your occasion.
SINOSWAN's concert setup uses cutting-edge hydraulics. This simplifies preparation and ensures stage stability throughout the event.
Integrated Systems: SINOSWAN's stages create immersive concerts. Our stages have cutting-edge sound, lighting, LED screens, and generator systems for spectacular events. All these aspects are smoothly interwoven to offer a complete concert experience.
SINOSWAN's concert stages are versatile and can suit diverse genres and performance styles. These stages are customized for rock concerts, classical orchestra performances, and stand-up comedy shows.
Improve Your Concert Experience
Check out how SINOSWAN's concert staging solutions may improve your concert experience.
The movable and modular stages from SINOSWAN make concert preparation easy. Move your stage easily between venues, saving time and money.
Concert Stage Hydraulic Technology: Our cutting-edge hydraulic technology raises and lowers your concert stage safely and efficiently.
SINOSWAN integrates sound, lighting, and LED screens. These devices improve concert audio and visuals.
Concert staging requires absolute safety. SINOSWAN designs its stages to fulfill high safety standards. This safety promise reassures event organizers and attendees.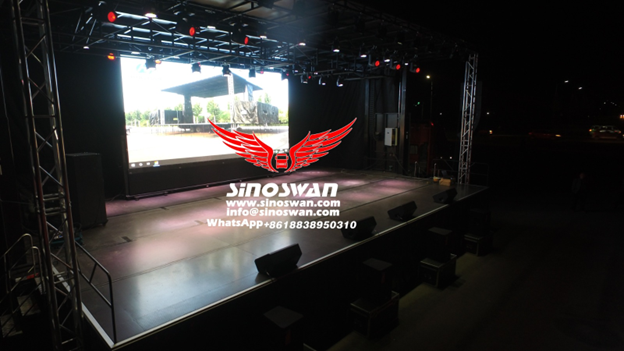 The SINOSWAN Difference: An unforgettable concert
Concert planning requires coordination of several elements. A reliable concert staging partner is essential. With their concert staging solutions, SINOSWAN streamlines outdoor concerts. Their moveable stages let you perform at numerous settings and attract a diverse audience.
Imagine staging a music event in a beautiful outdoor setting. SINOSWAN's mobile stages are easy to put up and give your artists a great platform. The venue's integrated sound system ensures that music can be heard everywhere, providing a compelling ambiance for the audience.
For smaller, intimate concerts, SINOSWAN's modular stages can be readily modified to the right size. The stages' adaptability optimizes event space for small acoustic performances or stand-up comedy shows.
A concert for any occasion
Concert staging includes events and performances outside music festivals. Outdoor events involving many activities require it.
SINOSWAN's concert stages may be customized for business events like product launches and team-building.
Political Campaigns: Easy-to-set-up and transport stages can make campaign rallies and speeches more effective.
SINOSWAN stages concerts for community events like talent shows and cultural festivals. Our professional platform supports these events' success.
Creating memories with SINOSWAN is great.
SINOSWAN's concert staging solutions have made outdoor concerts easier, faster, and safer for over two decades. They ensure that your audience will remember your concert, regardless of size or subject, because to their commitment to innovation, safety, and versatility.
SINOSWAN uses integrated systems, modern hydraulics, and mobility to simplify concert staging logistics. Our event planning solutions are tailored to both novice and expert planners.
Take advantage of SINOSWAN to make outdoor events like concerts a success. Since 1997, they have been a trusted brand that has shaped outdoor events. Event organizers that want to give attendees memorable experiences respect their concert staging knowledge.