Stages are critical when planning outdoor events like religious crusades, political campaigns, and exciting music festivals. Any event centers around a stage where performers, speakers, and entertainers engage with the audience. Sinoswan has event stages for sale that may make outdoor gatherings easier, safer, and more efficient.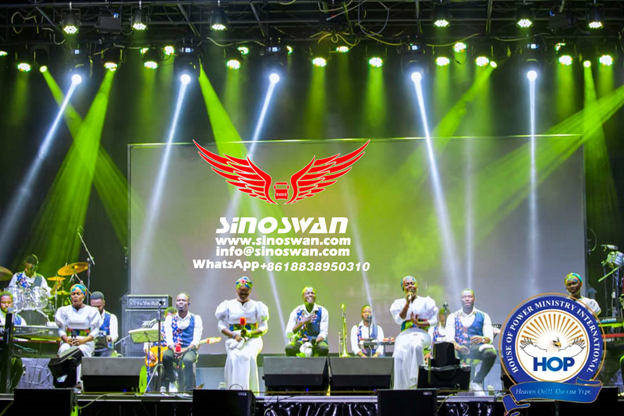 Sinoswan has pioneered outdoor event solutions since 1997.
Sinoswan has pioneered outdoor event solutions for over two decades. Sinoswan, the leading manufacturer of transportable stages, trailers, trucks with innovative hydraulic technology, and LED roadshows, has revolutionized outdoor event organization.
Our experience includes church crusades, gospel truck events, political campaigns, and elections. Sinoswan provides high-quality event stages with sound, lighting, LED screens, and generators. This dedication makes us the top choice for event organizers who respect quality.
Sinoswan's outstanding event stages enhance outdoor events.
Let's see how Sinoswan's event stages may improve outdoor events' efficiency and impact.
Stage preparation takes time and effort, making outdoor events difficult. To remedy this, we offer a simple setup. Sinoswan's mobile stages use cutting-edge hydraulics for easy assembly. This tool lets you swiftly arrange your stage, freeing up your time for other event planning tasks.
Safety is paramount while planning outdoor events. Sinoswan ensures that all event stages are built to safety requirements. Strong and weatherproof, our stages can survive several weather situations. Event organizers can focus on producing memorable experiences with peace of mind.
Every event is different, thus the stage should reflect that. Sinoswan offers many event stage customization possibilities. You may personalize the stage to your event demands by choosing from a variety of sizes, configurations, and extras. We can provide a small stage for a small event or a large one for a music festival.
Sinoswan's mobile LED roadshows and LED screens will raise your events' visuals. These screens are beautiful and high-resolution, giving your audience the finest perspective of the action. Whether showing live performances, campaign messages, or religious discourses, our LED screens leave a lasting impression.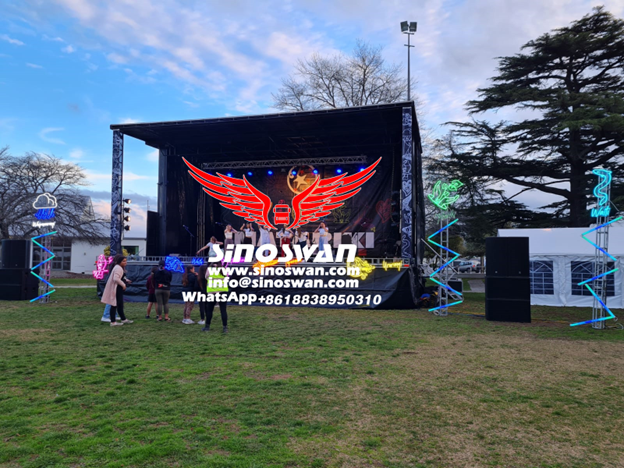 Sinoswan strives for quality and perfection.
When you choose Sinoswan for your event stages, you're investing in a tradition of quality and expertise. Our longevity in the industry shows our dedication to client service and innovation.
Our skilled staff works hard to build event stages for sale to the highest industry standards. We use high-quality materials and cutting-edge technologies to make our goods exceed expectations. With Sinoswan, you can be sure your investment will lead to the best outdoor event experience.
We can assist with outdoor activities.
We at Sinoswan understand the difficulty of preparing outdoor events and are ready to help. We provide top-notch event stages and experienced guidance to ensure your event's success.
Our event specialists can provide customized advice, recommendations, and assistance. We'll help you choose the right stage size and optimize the setup throughout the process.
In conclusion,
Sinoswan has pioneered outdoor events since 1997. Our commitment to make outdoor events more convenient, efficient, and secure has never faltered. We sell event stages with hydraulic technology, adjustable options, and high-quality LED screens. Our stages enhance your events.
Sinoswan event stages are more than just event stages—they represent a longstanding legacy of quality and excellence. We help you plan amazing outdoor events so your audience enjoys the finest.
Sinoswan can help any outdoor event succeed, whether it's a church crusade, political campaign, or vibrant music festival. Event stages at Sinoswan are ideal for memorable events. Contact us to learn about our vast selection of event stages for sale. With our stages, outdoor events can shine.