Ready to boost outdoor events? Leading event technology company SINOSWAN can help you manage safer, more efficient, and more convenient outdoor events. SINOSWAN has been well-known in the industry since 1997. LED roadshows, trailers, cars, and apex stages for sale are proudly sold. SINOSWAN sells top phases. Their features and how they might improve outdoor events will be discussed.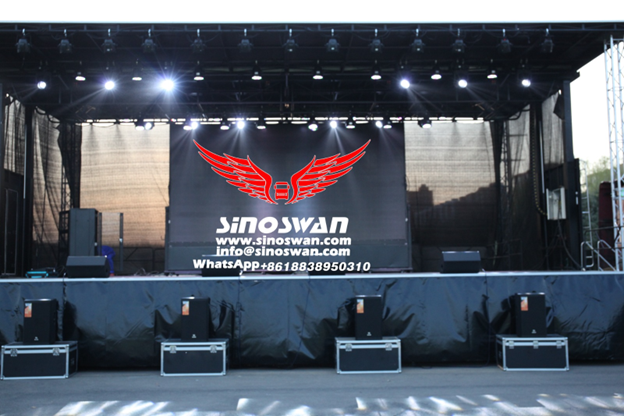 Introduction to SINOSWAN Apex Stages
A versatile platform is needed for outdoor church crusades, gospel truck gatherings, election campaigns, and more. SINOSWAN's peak stages meet these needs. The best hydraulic technology and creativity from SINOSWAN make outdoor events unforgettable.
The SINOSWAN Apex Stages' major components are:
SINOSWAN's apex stages' sophisticated hydraulic systems facilitate setup and teardown. Stage setup is faster with this technology, saving event preparation time.
SINOSWAN's moveable apex phases make transportation easier. These stages are great for hosting events in multiple locations or adapting to different event needs.
SINOSWAN's stages can host several events. Religious crusades, political campaigns, community meetings, and corporate events can use these stages.
System Integration: SINOSWAN's peak stages have essential systems for a smooth event. Generators, LED screens, sound systems, and stage lighting are examples. The bundle includes these components, so you don't need to buy them separately.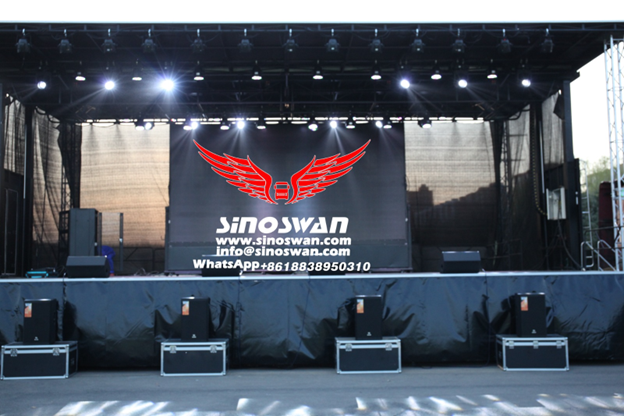 Event organizers value simplicity and efficiency, hence SINOSWAN offers simple solutions. Apex stages are easy to put up and manage for intermediate event planners.
SINOSWAN apex stages for sale save money by eliminating event stage rentals. Cost reductions can be significant over time.
Safety comes first at SINOSWAN. Our stages meet high safety standards, making your events enjoyable and safe.
Professionalism: SINOSWAN's stages enhance event professionalism. Detail impresses your viewers.
Observing Apex phases.
Consider organizing a church crusade for hundreds. Stage setup must be rapid and efficient for event success. These examples highlight SINOSWAN's top levels. Hydraulics make raising and lowering these steps easy. This provides stability for church leaders and performers. The integrated sound system makes every word and note audible, making the experience unique.
SINOSWAN's top echelons approach voters during elections. You can easily navigate your constituency during these times. A rally in a busy city or quiet suburb will spread your campaign message.
The SINOSWAN peak stages are ideal for business events. These levels may look polished and consistent with branding and logos. These stages can be customised for a product launch, conference, or team-building.
Your Event, Stage!
SINOSWAN proudly provides unique outdoor event solutions. Because every event is different, the team customizes peak stages with event organizers.
For massive rallies or personal gatherings, SINOSWAN can provide the stage. You may customize stage size with advanced hydraulic technology. You can also choose from LED screens to make your event more engaging and visually appealing.
Enhances Outdoor Events
SINOSWAN improves outdoor activities by offering versatile, faster, and safer products. Consider adding these keywords to help event planning:
Mobile stages from SINOSWAN help your event adapt to different settings.
Modern hydraulic technology speeds setup and maximizes efficiency on SINOSWAN's stages.
The combined sound and lighting solutions of SINOSWAN make gatherings memorable.
Mobile LED screens make outdoor events trendy and entertaining, highlighting your message.
SINOSWAN prioritizes outdoor event safety for attendees.
Finally,
Since 1997, SINOSWAN has led outdoor event tech. Sales of their premium apex stages for sale have changed event planning and execution. SINOSWAN's simple, efficient, and adjustable stages enable spectacular outdoor events. SINOSWAN's top stages are suitable for outdoor religious crusades, political campaigns, corporate events, and more. Use SINOSWAN to improve outdoor events. The company is trusted to make outdoor events safer, easier, and more efficient.