Are you trying to add even more spectacle and entertainment to your event? The Mobile Concert Stage in Sinoswan are the only place to look. "Mobile concert stage" is a buzzword in the live events industry, and Sinoswan is in the forefront of creating experiences that people won't soon forget.
The Revolution of the Mobile Concert Stage
When it comes to portable concert stages, Sinoswan has completely changed the rules. They have established themselves as the go-to company for everyone in need of Mobile Concert Stage solutions thanks to their cutting-edge technology and unwavering commitment to quality. Sinoswan can provide you with materials for political campaigns, church crusades, outdoor events, and more.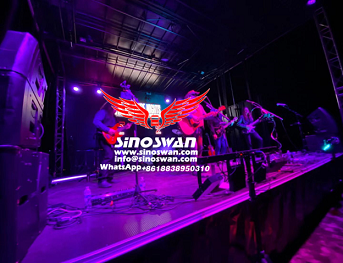 An Unparalleled Platform
Sinoswan is unique in that they are dedicated to offering a full entertainment experience, not simply a stage. Modern sound systems, eye-catching stage lights, LED screens that will wow your audience, and dependable generator systems are all included in their Mobile Concert Stage, which will guarantee a flawless event. You receive more than just a stage when you work with Sinoswan—you get an experience.
Individualization at Its Finest
Sinoswan is aware that each event is distinct, and your setup ought to capture that. They provide customizable choices that will enable you to have the event of your dreams. Their skilled experts may collaborate directly with you to develop and build the Mobile Concert Stage that precisely meets your requirements. Their experience and your vision are a match made in entertainment heaven.
Global Sales and Assistance
Sinoswan offers its movable stages all over the world; they don't just serve a certain area. They have sales representatives in the USA, Kenya, Ghana, and the Middle East, and they provide fair prices without sacrificing quality. The Mobile Concert Stage have an unmatched after-sales service and a two-year warranty.
Convenience Services Rental
Sinoswan provides options for those who are not in the market to purchase. For rental options, they can put you in touch with their dependable partners. It all comes down to giving their cherished clients convenience.
Participate in Sinoswan Network
Sinoswan has fostered a robust network of appreciative stage owners throughout the Middle East, Africa, Kenya, Ghana, and the United States. By selecting Sinoswan, you join a community that recognises the importance of innovation and quality.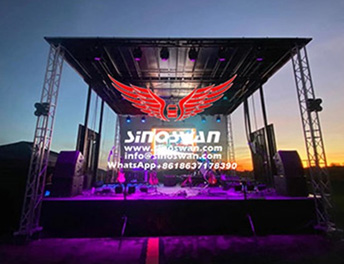 Engineering Superiority
Sinoswan provides engineering help in addition to production phases. Sinoswan's expertise can help with any technical questions you may have, or if you have a project with special rigging requirements or need help locating a stage in a difficult area.
Sinoswan is your go-to partner for expertise in transportable concert stages. Their unwavering dedication to innovation, customisation, and exceptional customer support positions them as the premier option for event planners globally. Sinoswan's mobile concert stages allow you to create an amazing experience rather than just organise an event.
Get in Touch
Are you prepared to use a Sinoswan movable concert stage to elevate your event to new heights? Speak with them about your needs right now:
Email: info@sinoswan.com
Tel: +8618538129701
WhatsApp Business: +86 18838950310
WhatsApp: +86 18637178390
Wechat: 18538129701
Website: www.sinoswan.com