Having the appropriate tools may make all the difference when it comes to organising campaigns, church crusades, gospel trucks, and outdoor events. With cutting-edge hydraulic stages from Sinoswan, the industry leader in mobile stages and hydraulic technology, your events will soar to new heights. This article will discuss the importance of hydraulic stages and the positive ways Sinoswan's technology is improving outdoor events.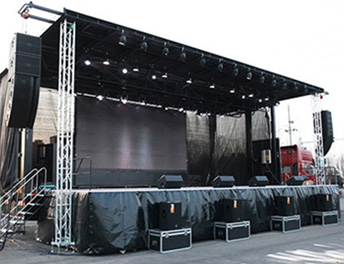 The Hydraulic Stages' Power
Hydraulic stages provide variety, simplicity, and safety, making them an indispensable part of outdoor events. They are perfect for a variety of uses, including election campaigns, church crusades, and gospel vehicles, as they are made to offer a sturdy platform that is simple to raise or lower.
Sinoswan's dedication to cutting-edge hydraulic technology has produced hydraulic stages that are exceptional in a number of ways, including:
–          Height Adjustability: Sinoswan's hydraulic stages are easily adapted to your event's unique requirements. Sinoswan's hydraulic stages can accommodate your needs, whether you need a modest, eye-level platform for small gatherings or a towering stage for huge outdoor performances.
–          Safety First: Sinoswan places a high premium on safety. To guarantee stability and dependability, these hydraulic stages are expertly constructed. You can be sure that your stage will stay stable during your event thanks to a strong hydraulic system and long-lasting materials.
–          Simple Operation: Sinoswan's hydraulic stages are simple to use, enabling quick setup and breakdown. Their user-friendly design makes it possible for event planners to concentrate on what really counts: giving their audience an unforgettable experience.
–          Versatile Applications: These platforms may be used for a variety of occasions, such as outdoor concerts, election campaigns, and religious meetings and crusades. Sinoswan's hydraulic stages may be tailored to your specific requirements, regardless of the type of event you are hosting.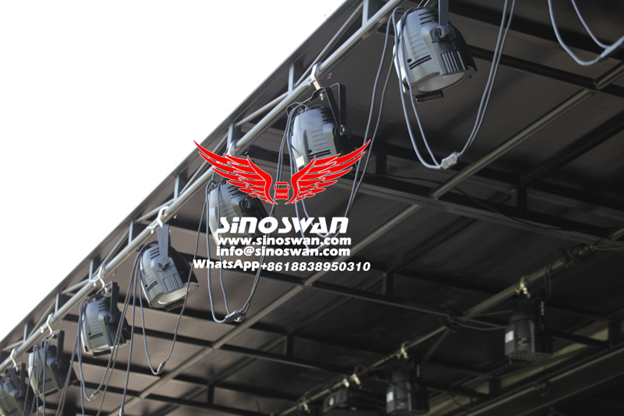 Comprehensive Solutions from Sinoswan
More than merely hydraulic stages are provided by Sinoswan. Their mobile activities and events come with a number of crucial features that can help your event succeed, including:
–          Sound System:
Having crystal-clear audio is essential for any occasion. Sinoswan offers excellent sound systems that can be customised to fit the size and needs of your event, guaranteeing that your music or message is heard by all members of the audience.
–          Stage Light System:
Lighting enhances your event's aesthetic appeal and sets the tone. The stage lighting systems from Sinoswan are made to complement the concept and mood of your event.
–          LED Screen System:
Visual material is essential in the era of digital communication. Sinoswan provides top-notch LED screen solutions that let you enthral your audience by displaying films, live feeds, and messages.
–          Generator System:
The foundation of every outdoor event is a dependable power source. The generator systems from Sinoswan guarantee a flawless event, even in far-off places.
For outdoor events, Sinoswan's hydraulic stages are revolutionary. You may achieve more success with your church crusades, gospel trucks, election campaigns, and other outdoor events by utilising their cutting-edge technology and all-inclusive solutions. Sinoswan can provide you with an adjustable stage, superior lighting and sound, LED displays, and a dependable power source, among other things.
Reach Sinoswan at:
Experience the safety, simplicity, and variety of Sinoswan's hydraulic stages and elevate your next event. Reach Sinoswan right now at:
Address: 21 Shangdu Road, Zhengzhou, Henan, China, 461500
Email: info@sinoswan.com
Tel: +8618538129701
WhatsApp: +86 18637178390
Wechat: 18538129701
Website: www.sinoswan.com