Getting a potential customer's attention in the hectic world of contemporary marketing is no simple task. In a congested market, conventional advertising techniques can fall short. This is where the campaign truck, a mobile marketing marvel that has become incredibly popular in recent years, comes into play. Here, we'll explore the importance of campaign trucks in the current marketing environment and how Sinoswan, a progressive business, has adopted this cutting-edge strategy to engage customers and propel profitable marketing campaigns.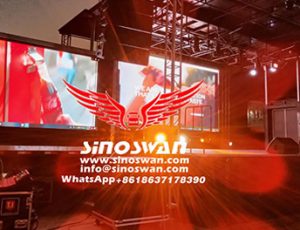 Campaign truck
A campaign truck is a type of mobile marketing vehicle used to conduct promotions and provide mobile brand experiences. These trucks are specifically designed for each customer and loaded with numerous branding components, audio-visual systems, and interactive features that transform them into mobile billboards and fun experiences. Campaign trucks provide a distinctive and memorable approach to interact with potential consumers by delivering marketing messages directly to the target demographic.
Innovation Commitment of Sinoswan
Sinoswan has established itself as a leader in embracing innovation when it comes to contemporary marketing solutions. They have been in the forefront of utilising campaign trucks to revolutionise how companies communicate with their consumers because of their unwavering dedication to offering cutting-edge marketing solutions.
Campaign Trucks: An Innovation in Mobile Marketing
Campaign trucks provide a novel and efficient option in a world when consumer attention is spread across several channels. Campaign vehicles are lively and eye-catching, in contrast to static billboards or conventional commercials. To maximise brand exposure and effect, they might travel strategically around selected regions, visiting occasions, festivals, and busy places.
Making Special Experiences
The ability of campaign trucks to give customers unforgettable experiences is one of their main advantages. As a result, Sinoswan's campaign trucks are created to elicit good emotions through interactive experiences and immersive narrative. Sinoswan is aware that emotions are a significant factor in customer decision-making.
Activating Audio-Visual Components
Modern audio-visual systems on Sinoswan's campaign vehicles take the company's messaging about its products to a whole new level. Interactive touchscreens, surround sound, and high-definition LED displays provide enthralling scenes that make an imprint on the audience.
Data-driven and focused approach
Sinoswan may use campaign vehicles to sell in a more focused and data-driven manner. To strategically design routes and places to target the most appropriate audience, they analyse data on consumer behaviour and preferences. This data-driven approach makes sure that marketing initiatives are more successful and economical.
Increasing the Impact of Social Media
Campaign trucks are the ideal catalysts for boosting a brand's effect in the social media era. These trucks turn into shareable material for watchers and bystanders as they go from one place to another. When engaging activities are mixed with aesthetically appealing branding, individuals are drawn to record and post their experiences on social media, greatly expanding a brand's reach.
Initiatives for a Sustainable Future
Sustainability is highly valued by Sinoswan, and their campaign vehicles have eco-friendly features. They support a more sustainable future while appealing to environmentally aware customers by utilising eco-friendly materials, energy-efficient technology, and waste reduction techniques.
Versatility and Flexibility
Campaign trucks provide marketing campaigns with an unrivalled level of flexibility and customization. The specially made trucks from Sinoswan can be transformed into pop-up stores, sample stations, interactive exhibits, and more, making them perfect for a variety of promotional activities in many sectors.
Success Stories in Driving
The creative usage of advertising trucks by Sinoswan has been crucial in propelling success stories for several businesses. The influence of campaign trucks on marketing effectiveness is clear, and it can be seen in anything from product launches and brand activations to awareness campaigns and roadshows.
Adopting creative strategies is essential for companies to differentiate themselves and leave a long-lasting impression as the marketing environment changes constantly. Campaign trucks have become an effective instrument to capture consumers, generate enduring experiences, and propel successful marketing campaigns thanks to its mobile marketing miracle.
Sinoswan has established itself as a forerunner in utilising campaign vehicles to revolutionise modern marketing thanks to their commitment to excellence and forward-thinking mindset. Campaign trucks will likely play a significant role in determining the future of marketing as businesses look for new methods to interact with their consumers, and Sinoswan will continue to be at the forefront of this revolutionary change.