A billboard truck may be a game changer if you're searching for an efficient approach to advertise your brand or promote an event. We will walk you through the process of locating the ideal billboard truck for sale. We will also introduce you to Sinoswan, a well-known firm that provides high-quality billboard trucks to satisfy your advertising requirements.
The Influence of Billboard Trucks
Billboard trucks are mobile advertising platforms where your message is displayed on enormous, eye-catching billboards. These trucks go to numerous sites, letting your message to reach a large number of people in a dynamic and compelling manner. Here are some of the benefits of using billboard trucks as an advertising medium:
–          High Visibility: Billboard trucks grab a lot of attention everywhere they travel. They may efficiently attract the attention of walkers, cars, and bystanders with their tall billboards and clever placement.
–          Targeted marketing: By picking precise routes and locations, you may successfully target your chosen demographic. Billboard trucks can get your message to the right people at the right time, whether you're advertising a local event or addressing a specific demographic.
–          versatility and Creativity: Billboard trucks provide for messaging and design versatility. You may modify the content, visuals, or even run numerous campaigns on the same vehicle to cater to different specials or seasons.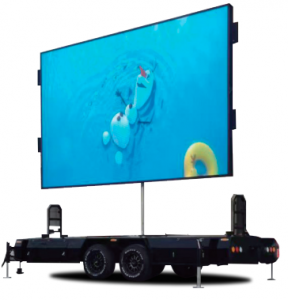 Why Should You Consider Sinoswan for Your Billboard Truck Needs?
Sinoswan is a reputable manufacturer of high-quality billboard vehicles with remarkable performance and durability. Here are some of the reasons why you should pick Sinoswan when looking for a billboard truck for sale:
–          Options for High-Quality
–          Customization
–          Cutting-Edge Technology
–          Outstanding Customer Service
–          Competitive Pricing
Choosing the Best Billboard Truck for Sale
Consider the following aspects when looking for a billboard truck for sale to guarantee you discover the best fit for your advertising needs:
–          Size and Design: Based on the message you want to express and the exposure you want, choose the proper size and design for your billboard truck. Consider the available billboard space, text readability, and graphics that are consistent with your business identity.
–          Display Technology: Select the display technology that best meets your advertising objectives. LED displays provide brilliant colours and dynamic graphics, whilst static displays have a more classic appearance. When choosing a display technology, consider elements like as brightness, resolution, and maintenance needs.
–          Maintenance and Support: Inquire about the manufacturer's or seller's maintenance and support. Check that the billboard truck has a guarantee and that you have access to technical assistance and spare components if necessary.
–          Budget and Financing possibilities: Determine your budget for the billboard truck and, if necessary, look into financing possibilities. Consider the long-term return on investment as well as the possible influence on the visibility and growth of your company.
Investing in a billboard truck for your advertising purposes may greatly increase the exposure and reach of your business. Sinoswan manufactures high-quality billboard vehicles that combine exceptional craftsmanship, customizability, and cutting-edge technology. Choose Sinoswan to locate the ideal billboard truck for sale and take your advertising to new heights.
So, if you're ready to take your advertising on the move, look into Sinoswan's offers and harness the power of a billboard truck for your company.