Effective marketing campaigns are critical in today's fast-paced corporate environment for reaching and engaging target consumers. Leveraging campaigns with trucks is a great strategy that may dramatically improve your marketing efforts. These mobile billboards on wheels are an eye-catching method to promote your products or services. Here, we'll look at the benefits and techniques of truck advertising, as well as how Sinoswan may help your company thrive.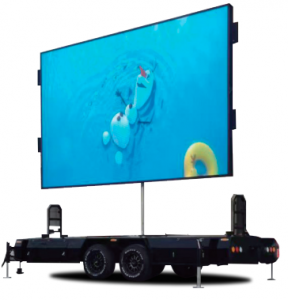 What Are Campaigns Truck?
Campaigns Truck promotions entail converting cars into mobile advertisements that capture viewers as they go through congested streets and highways. Trucks are used as a canvas for appealing imagery, snappy slogans, and powerful messages in these campaigns. Truck campaigns offer significant brand exposure by delivering marketing messages directly to the locations of your target audience, resulting in greater awareness, engagement, and conversions.
The Influence of Mobile Advertising
Mobile advertising has evolved as an effective and low-cost marketing strategy. Traditional marketing methods sometimes struggle to break through the noise and attract the attention of customers. Truck ads, on the other hand, offer a fresh and entertaining technique that allows firms to stand out in a cluttered advertising scene.
Increase your reach and exposure.
The ability of truck advertising to maximise reach and exposure is one of its primary benefits. Trucks may roam around cities, targeting varied groups, unlike static billboards or internet advertisements that are confined to certain areas or websites. This mobility guarantees that your marketing message reaches a larger audience, boosts brand recall, and leaves a lasting impact.
Brand Awareness Has Increased
By combining brand features like as logos, colours, and taglines into truck ads, you can establish a strong visual identity that people will recognise. Your brand obtains exposure and familiarity among potential buyers as the trucks go through various neighborhoods. This enhanced brand awareness leads to improved consumer acquisition and loyalty.
Targeting that works
Campaigns Truck let you reach out to particular target markets with pinpoint accuracy. You may personalise your message to certain demographics by deliberately picking routes and venues, ensuring that your marketing efforts are focused at the correct target. Truck campaigns allow the flexibility to adjust to your target audience's preferences, whether it's reaching rich neighborhoods or targeting certain events or places.
Sinoswan: Your Successful Campaigns Truck Partner
Sinoswan is an industry leader when it comes to executing great campaigns truck. Sinoswan blends creativity, innovation, and cutting-edge technology to drive the success of your campaigns. We have years of expertise and a proven track record of creating powerful marketing solutions.
Truck Designs That Are Unique
We recognise that your brand is distinctive, and that your marketing strategies should reflect that. Our talented designers collaborate with you to produce eye-catching truck designs that are consistent with your brand's identity and messaging. We ensure that every aspect of your truck campaign, from eye-catching visuals to appealing slogans, emanates professionalism, originality, and brand consistency.
Targeting and Route Optimisation
You may improve the efficiency and efficacy of your truck promotions by leveraging Sinoswan's experience. Our staff uses complex route optimisation algorithms to discover the most strategic routes, ensuring that your adverts reach your target audience at the proper time and place. We guarantee that your advertisements have the most impact and return on investment by analysing traffic patterns, consumer behaviour, and demographic data.
Innovative Technology
Sinoswan embraces the most recent technical breakthroughs to improve your truck advertising. Our fleet is outfitted with cutting-edge LED displays, resulting in bright and high-resolution graphics that fascinate spectators. Furthermore, you can follow the development and effectiveness of your campaigns in real time, providing you with vital insights into audience engagement and interaction.
Detailed Analytics and Reporting
Understanding the efficacy of your marketing activities is critical for making sound business decisions. Sinoswan offers extensive analytics and reporting solutions to effectively measure the effectiveness of your truck advertising. Our extensive reports, which cover everything from reach and impressions to audience engagement and conversion rates, let you assess the effectiveness of your campaigns and discover areas for improvement.
In today's competitive business environment, distinguishing out from the crowd is critical to success. Truck promotions provide a vibrant and eye-catching strategy that may propel your marketing efforts to new heights. With Sinoswan as your partner, you can fully realise the potential of truck advertising, using their mobility and visual impact to efficiently reach and engage your target audience. Don't pass up the chance to outperform your competition and develop a strong brand presence. Contact Sinoswan immediately to begin an exciting road towards truck marketing success!