If you're seeking for a concert staging for sale, your quest has come to an end at Sinoswan! A concert takes painstaking attention to detail, and one critical part is the staging. The proper concert staging can enhance the entire event, producing an enthralling experience for both artists and fans. Look no further than Sinoswan for high-quality concert staging solutions. We will look at the significance of concert staging, how it may improve your event, and why Sinoswan is the go-to firm for all of your staging needs.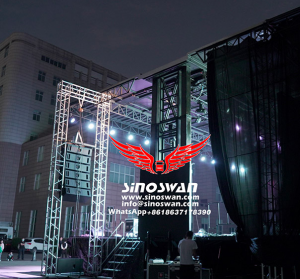 The Value of Concert Staging
The concert staging acts as the event's basis, offering a stage for artists to exhibit their talent and interact with the audience. It establishes the tone and mood, creating an indelible impact on everyone in attendance. You can create a visually appealing and engaging experience that captivates the audience from start to finish with the correct staging.
Innovative Design Enhances Visual Appeal
The importance of aesthetic attractiveness in concert staging cannot be overstated. Sinoswan recognises the value of aesthetics and offers a diverse choice of unique designs to complement any musical genre or theme. Sinoswan has the skills to construct visually spectacular stages that match the music and heighten the whole experience, whether you're organising a rock concert, a classical symphony performance, or a pop music festival.
Performers and attendees should feel safe and secure.
At any event, especially a concert, safety should never be sacrificed. Sinoswan places a premium on safety and offers staging solutions that meet the highest industry requirements. Their stages are designed to bear enormous loads while remaining stable during high-energy shows. With Sinoswan's concert staging, you can relax knowing that both the artists and the audience are safe.
Sinoswan: Your Reliable Concert Staging Partner
Sinoswan is the industry leader you can trust when it comes to concert staging for sale. With years of expertise and a track record of success, they have established themselves as a reliable partner for several successful concerts and events throughout the world. Here are some of the reasons Sinoswan stands out from the crowd:
Unrivalled Knowledge and Innovation
Sinoswan's skilled staff delivers unrivalled knowledge and innovation to every project. They understand the specific needs of many musical genres and events, allowing them to design and construct stages that improve the entire experience. You can anticipate cutting-edge designs and unique solutions from Sinoswan that will set your show apart from the crowd.
Comprehensive Support and Upkeep
Sinoswan's dedication to client satisfaction goes beyond the original purchase. To assure the lifespan and dependability of their staging solutions, they provide complete support and maintenance services. Sinoswan is available to help you every step of the way, whether you need assistance during the event or periodic maintenance inspections.
Sinoswan is the brand you can trust when it comes to concert staging for sale. Their knowledge, creativity, attention to detail, and dedication to client satisfaction set them apart from the competitors. You can take your concert to new heights using Sinoswan, delivering a remarkable experience for both musicians and attendees. Do not accept anything less than the finest. Choose Sinoswan for all of your concert staging requirements.