Within the field of event management, the stage serves as the focal point, elevating the overall experience. A well-thought-out stage may turn a routine gathering into an amazing spectacle. One brand in the business stands out above the others when it comes to cutting edge Concert Stage Trailer: Sinoswan. Come along as we explore the world of concert stage trailers and the incredible achievements made by Sinoswan in this field.
The Fundamentals of Sinoswan
In terms of manufacturing mobile stages, Concert Stage Trailer, and mobile stage trucks, Sinoswan is clearly the industry leader. Their use of state-of-the-art hydraulic technology has completely changed the way events are planned. They provide mobile LED roadshows, mobile roadshows, mobile roadshow trucks, and mobile LED trucks. These can be used for a variety of events, such as election campaigns, church crusades, and gospel gatherings.
Capabilities to Impress
More than merely Concert Stage Trailer, Sinoswan's mobile events and activities are designed to impress. They have LED screens, stage lighting, sound systems, and generator systems. With the help of these capabilities, your events can be fully customised, guaranteeing that every second spent on stage is maximised.
Individualization at Its Finest
Sinoswan's capacity to customise their products to your precise requirements and specifications is one of their strong points. With skilled specialists on standby, they can assist you in realising your imaginative concepts and making sure your events are memorable and make an impression.
Advantage
The Global Sales
Sinoswan offers more than just local market services. With agents located in the USA, Kenya, Ghana, Middle East, and other countries, their sales efforts are global in scope. Making your Concert Stage Trailer fantasies come true, Sinoswan is committed to providing excellent quality at cheap pricing.
Superior After-Sale Support
Sinoswan's dedication doesn't stop at the sale. To make sure you can get the most out of their goods, they offer free training in the form of video tutorials, personal training, and technical manuals. Additionally, they guarantee lifetime servicing and offer a two-year warranty on their items, giving you peace of mind that your investment is in capable hands.
Sections and Choices
Sinoswan provides a comprehensive selection of components and solutions for Concert Stage Trailer and related systems like lighting and sound. This guarantees that your mobile stage setup will remain in top shape for many years to come by making maintenance and upgrades simple.
Leased Assets
Sinoswan forwards rental requests to their cooperative partners in order to further improve consumer convenience. This implies that they can provide you with a transportable Concert Stage Trailer even if it's only needed for a single occasion.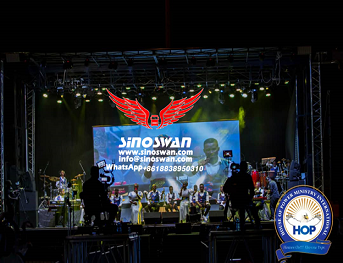 A Content Network
Sinoswan has fostered a robust global network of proud stage owners across the Middle East, Africa, Kenya, Australia, and the United States. This network serves as an additional example of their industry-wide credibility and trustworthiness.
Engineering Proficiency
Sinoswan goes above and above to help your special tasks. They have the know-how to accomplish any task, whether it be rigging calculations, building rigging parts or helping to place the Concert Stage Trailer in difficult areas.
The stage is the canvas that creates priceless memories in the field of event management. Event planners may now create masterpieces with the help of Sinoswan's Concert Stage Trailers, which have replaced brushes and paints. When it comes to elevating their events, event planners continue to turn to Sinoswan because of their dedication to excellence, innovation, and client satisfaction.
Contact Us
It's simple to get in touch with Sinoswan if you're interested in the opportunities they present. They can be reached by phone, email, or through a number of messaging services. Their hardworking staff is always there to help:
Email: info@sinoswan.com
Tel: +8618538129701
WhatsApp Business: +86 18838950310
WhatsApp: +86 18637178390
Wechat: 18538129701
Website: www.sinoswan.com
Youtube : https://www.youtube.com/c/SINOSWANMOBILESTAGES