Effective mass outreach is a critical goal in the fast-paced field of evangelism. In response to this difficulty, a well-known company called Sinoswan has unveiled a revolutionary invention called the "Evangelism Truck." This article will examine the amazing world of portable stages and how they have transformed the way churches and other organisations engage in message dissemination.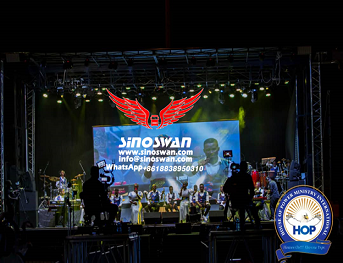 Truck of Evangelism and Sinoswan
The company Sinoswan, which is known for innovation and quality, has elevated the idea of evangelism to a completely new plane. They are making it possible for churches and other organisations to take their message to the streets and reach a larger audience than ever before with their amazing lineup of mobile stages.
The Importance of Evangelism Vehicles
The capacity of an evangelism truck to spread the gospel outside of conventional churches is what gives it its power. These transportable stages provide a special venue for dynamically and compellingly sharing the gospel.
An Omnipotent Wonder
The ST130, ST130PLUS, and ST150MAX mobile stages from Sinoswan are made to be highly adjustable and versatile. They are the full package for any mobile crusade, complete with generators, LED screens, cutting-edge lighting configurations, and state-of-the-art sound systems.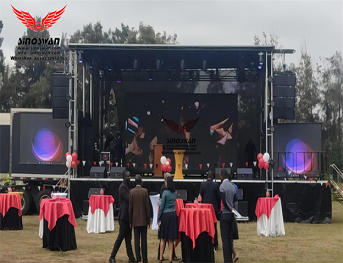 The Benefits of Evangelism Trucks for Churches
Nowadays, churches can plan mobile campaigns to foster a sense of belonging and solidarity. These gatherings bring together individuals from many backgrounds, offering a chance to spread the word about faith to a wide range of listeners.
Evangelism Vehicle Flexibility
These evangelism trucks aren't just for use at church functions. Their versatility allows them to be used for a wide range of additional reasons, including charity events, community outreach, and even entertainment.
Organising Powerful Events
The incorporation of sound and lighting equipment enhances the ambiance of these events, guaranteeing that the message is conveyed effectively. The audience is effectively engaged by the visual component that the LED screens give.
Power Trio
The ST130, ST130PLUS, and ST150MAX models from Power Trio Sinoswan provide a variety of choices to meet different needs. There is a moveable stage suitable for any size event, be it a small church gathering or a massive campaign.
Sound and Lighting System Integration
The experience of mobile crusades is enhanced when cutting-edge sound and lighting technologies are combined. It guarantees that each participant is completely absorbed in the information being presented.
Visual Interaction
An essential part of evangelism vehicles are LED screens. They make it possible to provide scripture, images, and multimedia information, giving the message more substance and interaction.
Uninterrupted Power
The evangelization truck can run in any place, even without access to energy, thanks to uninterrupted power generators. Its mobility changes the game by enabling events to take place in far-off places.
Seeking Evangelism Solutions from Sinoswan
Sinoswan is your spiritual companion as well as a supplier of evangelism trucks. Their solutions are customised to meet your needs, guaranteeing a smooth message-spreading experience.
Sinoswan's evangelistic trucks provide an innovative and powerful means of spreading the word of faith in a society where people are always on the go. Sinoswan is genuinely changing the evangelism industry with their adaptable mobile stages, cutting-edge technology, and dedication to sharing the gospel.
Don't pass up this chance to connect with people and change lives in a way never seen before. Start your trip with Sinoswan's evangelistic vehicles by gaining access right now: Get In Right Now.
Get in Touch
The following routes can be used to contact Sinoswan with any questions:
Email: info@sinoswan.com
Tel: +8618538129701
WhatsApp Business: +86 18838950310
WhatsApp: +86 18637178390
Wechat: 18538129701
Website: www.sinoswan.com