Maintaining a connection and active engagement with your audience is more important than ever in the fast-paced world of today. Sinoswan's Mobile LED Screen Trailer is the ideal alternative for those seeking an innovative marketing approach or event planners seeking to create a memorable impression. This cutting-edge device provides a dynamic and captivating approach to engage your target audience in addition to being portable and adaptable. Continue reading to find out how your events and promotions may be transformed with Sinoswan's Mobile LED Screen Trailer for sale.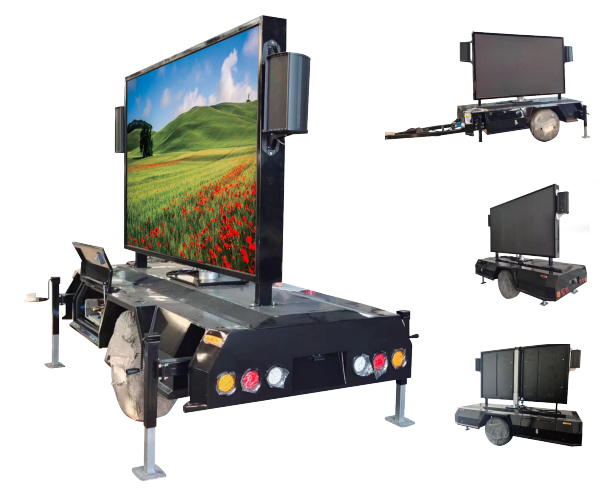 Introducing the Mobile LED Screen Trailer for sale from Sinoswan
A pioneer in the field of cutting-edge LED display technology, Sinoswan presents the Mobile LED Screen Trailer, a novel way to stand out in a crowd by fusing mobility with a superior display. Modern LED screen technology in this transportable and adaptable trailer provides a diverse platform for showcasing your material, be it live events, promotions, ads, or anything else that grabs attention.
The Mobile LED Screen Trailer from Sinoswan's salient features
Adaptability and Mobility:
The portability of Sinoswan's Mobile LED Screen Trailer is one of its main benefits. The caravan is made to be easily transported; it can be pulled to any area, so you can reach your target audience directly with your message. This portable LED screen is the ideal partner for any event, be it an outdoor gathering or a mobile marketing campaign.
Display with High Resolution:
With a high-resolution display, Sinoswan's Mobile LED Screen Trailer makes sure your material is clear, colourful, and easy to see even in bright light. Both indoor and outdoor locations will benefit greatly from the attention-grabbing and dramatic graphics that are sure to captivate passersby.
Resistance to Weather:
Sinoswan is aware that weather might be unexpected when planning outdoor activities and promotions. For this reason, the Mobile LED Screen Trailer is made to be resistant to wind, rain, and other environmental conditions, guaranteeing continuous operation in any weather.
Easy-to-use Interface:
The Mobile LED Screen Trailer from Sinoswan may be operated without the requirement for technical expertise. It is accessible to all users because to its user-friendly interface, which makes scheduling, controlling content, and adjusting display easy.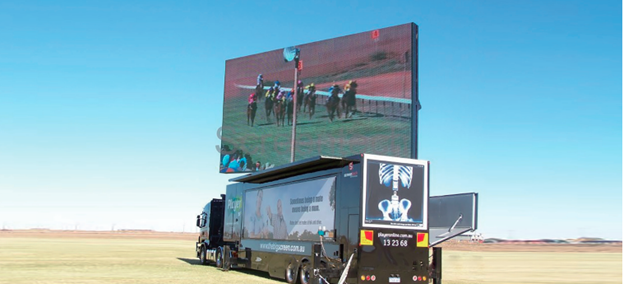 Personalization:
Sinoswan provides customization choices so you may adjust the trailer's appearance and features to meet your unique requirements. You may customise the screen's dimensions and resolution, as well as incorporate interactive elements, to provide your viewers a genuinely exceptional experience.
Uses for the Mobile LED Screen Trailer from Sinoswan
The Mobile LED Screen Trailer from Sinoswan is an adaptable device with a multitude of uses:
–          Mobile advertising: Take your brand to new places and reach out to prospective clients directly with product and service promotions.
–          Outdoor Events: Add live broadcasts, interactive displays, and promotional information to outdoor events, such concerts, festivals, and sporting events.
–          Community Engagement: Engage the community by bringing your message to events like parades, town halls, and local fairs.
–          Emergency Information: The caravan may be used to broadcast vital information in an emergency, keeping the people safe and informed.
Invest in the Mobile LED Screen Trailer from Sinoswan.
For companies and event planners, staying on top of the latest technological developments is crucial. With Sinoswan's Mobile LED Screen Trailer, you can engage your audience on a whole new level and draw them in with a novel approach. This trailer is revolutionary for events and marketing campaigns because of its weather resistance, portability, high-resolution display, and customizable possibilities.
Don't pass up the chance to raise awareness of your company and produce memorable experiences. Get in touch with Sinoswan right now to learn more about the Mobile LED Screen Trailer that is on sale and to start your innovative and prosperous marketing and event endeavours.
Contact Sinoswan:
Raise the bar for your next event by getting in contact with Sinoswan right now for all of your mobile stage needs. Learn about the adaptability, security, and simplicity of their stages:
Watch : SINOSWAN SL50 mobile LED trailer
Address: 21 Shangdu Road, Zhengzhou, Henan, China, 461500
Email: info@sinoswan.com
Tel: +8618538129701
WhatsApp: +86 18637178390
Wechat: 18538129701
Website: www.sinoswan.com