Capturing attention and creating a lasting impact on your audience is critical in today's fast-paced society. Trailer screens serve as a canvas for creativity, while display trailers have developed as a dynamic and fascinating marketing tool. Let's look at the power of display trailers and the role of trailer screens in increasing brand awareness and engagement.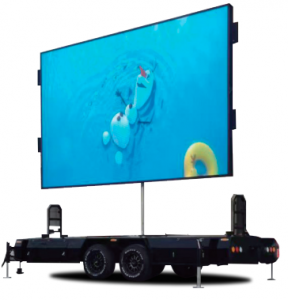 The Expansion of Display Trailers
Display trailers have grown in popularity as mobile advertising options in recent years. These adaptable vehicles may be quickly relocated to a variety of sites, maximising exposure to a wide range of audiences. Display trailers, which are outfitted with attractive displays, sound systems, and interactive elements, provide a one-of-a-kind and immersive marketing experience.
Using Trailer Screens to Their Full Potential
The trailer screen, a cutting-edge technology that revolutionises traditional advertising tactics, is at the core of display trailers. These high-resolution screens serve as effective digital billboards, displaying your business message to a captive audience. Trailer displays, with developments in LED and touchscreen technology, provide unrivaled versatility and creativity in presenting your marketing information.
The Most Important Advantages of Display Trailers and Trailer Screens
–          Unrivaled Mobility: Display trailers may be carefully placed in high-traffic locations to ensure your brand reaches a larger audience. Display trailers may be the center of attention anywhere your target audience meets, from city centers to events, festivals, and trade exhibitions.
–          Enhanced Brand Visibility: Display trailers increase brand visibility by using huge, eye-catching displays and exciting imagery. The use of eye-catching images, videos, and interactive components guarantees that your business message is not only seen but remembered long after the contact.
–          Engaging Customer Experience: Interactive experiences on trailer screens allow potential consumers to connect directly with your business. Trailer displays generate exciting and engaging moments that make a lasting impact, from touchscreens showing product information to virtual reality experiences.
–          Low-Cost Solution: Display trailers are a low-cost alternative to typical advertising tactics. They do away with the necessity for costly static billboards and ongoing rental payments for physical venues. Display trailers provide a movable advertising platform that can adapt to different places, allowing you to maximise your marketing expenditure.
In the ever-changing world of marketing, display trailers and trailer displays have evolved as novel alternatives. Brands can engage their target audience and develop significant relationships by using the mobility, visual impact, and interaction they provide. Whether you want to introduce a new product, create brand recognition, or communicate with consumers, the power of display trailers and trailer screens may help you achieve your goals.
Remember that staying ahead of the curve is critical in an ever-changing world. Accept the opportunities that display trailers and trailer screens provide and unleash your brand's full potential.