Welcome to the world of exhibition trailers, where mobility meets innovation and businesses have the opportunity to present their goods and services in a distinctive and memorable manner. In this post, we'll examine the idea of exhibition trailers and examine Sinoswan, the supplier of these trailers. Whether you are an individual interested in the intriguing world of exhibits or a company owner searching for an innovative marketing solution.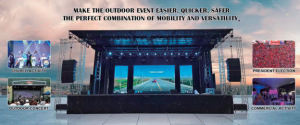 Sinoswan is a top supplier of exhibition trailers, providing innovative solutions to companies in a range of sectors. Sinoswan has made a reputation for itself in the industry as a brand you can trust thanks to its passion for innovation and dedication to quality. The business specializes in creating custom exhibition trailers that meet the specific requirements of
What Sets Apart Exhibition Trailers?
Mobile marketing tools like exhibition trailers provide a new and engaging approach to communicating with potential consumers. Since these trailers can be moved to numerous locations, unlike conventional static displays, firms are able to reach a larger audience and increase brand exposure. Exhibition trailers offer a distinctive experience that makes a lasting impression on visitors thanks to its adaptable interiors and eye-catching exteriors.
Benefits of Using Exhibition Trailers
–          Flexibility: You may put up your show in a variety of locations with the help of exhibition trailers.
–          Mobility: Without the necessity for a permanent physical presence, you may contact potential clients in other cities or even foreign countries, therefore broadening your market reach.
–          Cost-Effective: Because they demand less initial outlay and ongoing expenses, they are a desirable alternative for companies of all sizes.
–          Engaging Experience: You may interact with your audience in a manner that traditional marketing techniques cannot, whether it is through interactive displays or product demos.
Exhibition trailers provide businesses with a distinctive and captivating approach to marketing their goods and services. These trailers are a common alternative for companies trying to separate out in a crowded market thanks to their mobility, customizable choices, and fun experiences. Innovative display trailers are offered by Sinoswan, a reputable brand in the market, to meet the unique demands of companies in various industries. So, if you're prepared to step up your marketing efforts, think about the effectiveness of exhibition trailers and Sinoswan's knowledge.
FAQs
Question: How much does a trailer for an exhibition cost?
The price of an exhibition caravan relies on a number of variables, including its size, degree of design complexity, degree of customization, and optional extras. It is essential to speak with Sinoswan or other reliable suppliers to receive a price that is tailored to your unique needs.
Question: Can I rent an exhibition caravan rather than buy one?
Yes, a lot of businesses provide possibilities for renting exhibition trailers. For companies that only need to utilize these trailers sometimes or temporarily, renting them out may be the most cost-effective option.
Question: Are display trailers appropriate for outdoor events?
Exhibition trailers may be utilized for both indoor and outdoor events, proving their adaptability. They may be erected in outdoor locations like parking lots, fairs, or event sites and are made to endure a variety of weather conditions.