Are you ready to make your next event one to remember? For all of your festival staging requirements, look no further than Sinoswan. Sinoswan is the go-to firm for transforming your festival into a compelling spectacle, thanks to their cutting-edge technology and event production skills.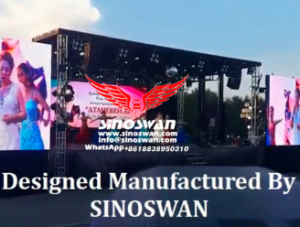 Creating a Festival Setting
Festivals are lively gatherings of culture, music, and art that bring people together. Festival organisers must invest in high-quality stage solutions to genuinely capture the audience and leave a lasting impression. Festival staging includes a variety of components such as stage design, lighting, audio, and overall event production. Organisers may build immersive events that resonate with audiences by concentrating on these critical characteristics.
The Value of Festival Staging
A successful event is built on effective festival staging. It improves the aesthetic appeal, optimises performance spaces, and assures the safety of both artists and spectators. Well-designed stages allow performers to shine while also allowing the audience to fully immerse themselves in the performances. Furthermore, festival staging establishes the tone and ambiance, producing an environment that makes an indelible impact on visitors.
Cutting-Edge Technology for Extraordinary Events
Sinoswan has a large variety of cutting-edge staging equipment. They offer everything needed to create unforgettable festival experiences, from robust platforms and rigging systems to cutting-edge lighting and audio solutions. Sinoswan assures that its stages are aesthetically gorgeous, sonically outstanding, and structurally secure by utilising cutting-edge technology.
Customised Staging Solutions: Unleash Your Creativity
Creativity knows no limitations at Sinoswan. They recognise that each event has its unique theme and requirements, and they collaborate closely with organisers to make their vision a reality. Sinoswan, with a team of creative designers and technicians, provides customised stage solutions that complement the festival's distinct style. Their meticulous attention to detail and dedication to quality guarantee that each stage is a piece of beauty.
Ensuring Festival Staging Safety and Efficiency
Safety is critical in festival production, and Sinoswan takes it seriously. They follow strict safety standards to ensure the safety of everyone engaged. Sinoswan guarantees that their stages are not only visually attractive but also safe for artists and audiences through sturdy structural engineering and rigorous design and implementation. Furthermore, their quick stage setup and teardown methods help to keep events running smoothly.
Sinoswan's Role in Festival Production
Sinoswan distinguishes out as a trusted industry leader in festival staging. Sinoswan has established itself as the go-to firm for top-tier event production thanks to years of expertise and a commitment to perfection. They specialise in offering extensive stage solutions that are tailored to the specific requirements of each festival.
Finally, festival staging is an important part of generating memorable and immersive experiences for spectators. Sinoswan is the industry leader when it comes to top-tier staging solutions. Their cutting-edge technology, unique design skills, and an unrelenting dedication to safety and excellence make them the go-to business for event organisers. Partnering with Sinoswan can help you take your next event to new heights.