As a leading manufacturer of mobile stage trailers in China, SINOSWAN has always been committed to serving global religious organizations and missionary activities. Our technology is constantly updated. We sincerely invite our old customers to come to our production workshop to purchase for their churches Add more possibilities.
Choosing the Perfect Partner: Kenya's Special Needs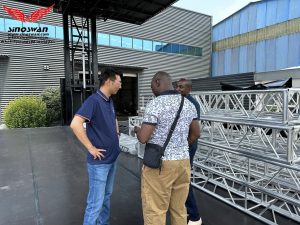 This Kenyan customer is eager to hold grand missionary activities outdoors to convey the Lord's mission to more people. For this reason, they need a flexible mobile stage trailer that can adapt to different venues and events of different sizes. SINOSWAN has become their ideal choice.
Perfect customized solution: ST130PROMAX mobile stage trailer
SINOSWAN provides customers with a wealth of choices, from 4.2 meters to 17 meters of mobile stage trailers, which can be customized according to customer needs. After detailed communication, he finally chose the ST130PROMAX mobile stage trailer with a stage size of 12m x 12.16m (39'4″ x 39'8.9″). The top of the stage can be lifted up to 6 meters, providing more possibilities for different event scenes, and has become one of the most popular models of SINOSWAN.
In-depth understanding: factory visits, technical learning
When customers come to SINOSWAN's production plant, it is the beginning of a deep learning journey. He was led to visit the selection and processing process of raw materials, and understood the process of gradually transforming the stage trailer from parts to complete sets of equipment. In particular, the engineers patiently introduced the principles of stage hydraulic technology to customers, and explained how to operate and maintain these systems to ensure the smooth lifting and safe operation of the stage. In order to let the customer have a deeper understanding, the engineer also conducted a practical operation demonstration. Under the guidance of the engineer, the customer operated it several times by himself, and felt the convenience of the mobile stage trailer, and the customer was very satisfied.
Win-win cooperation: discuss details and transportation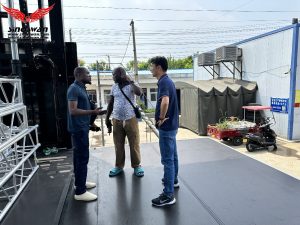 In the final stage of the factory visit, the two sides conducted in-depth exchanges in a friendly atmosphere. They discussed the details of transportation and delivery, and ensured that the stage trailer arrived in Kenya smoothly, providing a new experience for the church's religious activities.
Pass the mission and start cooperation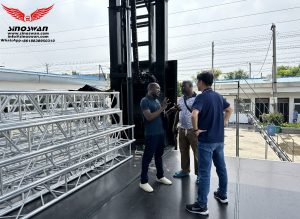 The Kenyan customer visit is not only a business exchange, but also the beginning of a cultural exchange and cooperation. SINOSWAN's professional technology, warm service and all-round cooperation spirit have left a deep impression on customers. Their cooperation with SINOSWAN is not only a successful transaction, but also the beginning of their joint pursuit of religious development. Through this case, SINOSWAN once again demonstrated its leading position and high-quality service in the field of stage trailers, setting a shining example for attracting more global church customers in the future.