Cameroon clients need to carry out concert activities locally. After the contract for purchasing ST130 was signed, he decided to visit the factory and finally successfully signed the contract and purchased a complete set of stage equipment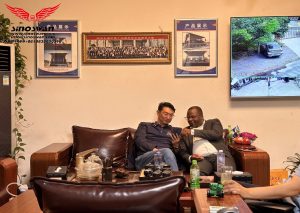 He came to our production workshop, and our company led the customer to visit the entire production process. From the selection of Concert Stage Trailer raw materials, processing, to final assembly and commissioning, customer representatives witnessed how the mobile stage trailer gradually transformed from a component to a complete set of equipment with complete functions. According to the customer's request, we discussed and communicated in the company's office for an afternoon, and finally worked out a perfect mobile advertising vehicle private customization plan for the customer, paying attention to every detail from production to transportation to the country.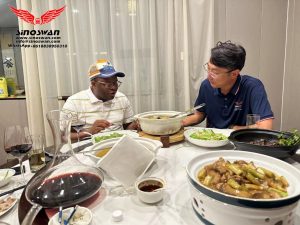 Next, the customer representatives paid special attention to the learning of Mobile Outdoor Event Stage hydraulic technology. The engineers patiently explained to them the principles of the hydraulic system and how to operate and maintain these systems to ensure the smooth lifting and stable operation of the stage. Customers are actively involved, not only asking questions to engineers, but also gaining hands-on experience with real technologies.
In the final stage of the factory visit, in a warm and friendly atmosphere, the two parties conducted in-depth exchanges and clarified their cooperation intentions and expectations. After in-depth negotiations, the contract was gradually formed to ensure the procurement and delivery of the Mobile Arts Festival Stage Trailer and related equipment. Soon this project will be put into use and coming to Cameroon with this car will be the most perfect concert scene
After visiting your factory, under the leadership of our company boss, we began to visit suppliers of lighting, audio, and LED screens. Under the guidance of professionals, customers have an in-depth understanding of the features and functions of these devices. After careful discussion and testing, they finally selected the equipment that suits their needs, and signed an order contract with the supplier.
We provide a full range of technical training. The engineer team has conducted detailed tra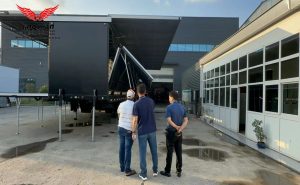 ining for customers, teaching them how to operate and maintain equipment, and how to deal with possible problems.
This perfect cooperation trip is not only a business transaction, but also a cultural exchange. The company's professional technology, enthusiastic service and all-round cooperation left a deep impression on the customer representatives. This cooperation is not only a successful transaction, but also the beginning of a friendly and cooperative relationship between the two parties. Looking forward to your ideas and every communication with us, after paying the deposit, we will invite you to come to our factory to study. Come to China to experience the new hydraulic stage technology.